Dhaka is the capital of Bangladesh. There is a famous polytechnic in Dhaka name Dhaka Polytechnic Institute. In this article, I am going to write about Dhaka Polytechnic Institute. From here you will be able to know all about Dhaka Polytechnic Institute include Dhaka polytechnic history, education information, admission method, department name, contact information, and other details. Read this full article.
About Dhaka Polytechnic Institute
Dhaka Polytechnic Institute is a famous and oldest government technical institute in Bangladesh. It is one of the largest polytechnic institutes all over Bangladesh. The number of students of Dhaka polytechnic institute is about 8898. according to the information of 2018, the Dhaka Polytechnic Institute is the rank number one polytechnic institute among all 49 government polytechnic in Bangladesh. The present principal name of the Dhaka Polytechnic Institute is Md.Jakir Hossain.
Former Name: East Pakistan Polytechnic Institute
Motto: Progress and Service
Type: Public
Established: 1955; 67 years ago
Accreditation: Institution of Diploma Engineers, Bangladesh (IDEB)
Academic Affiliations: Bangladesh Technical Education Board
Principal: Engr. Kazi Zakir Hossain
Academic Staff: 116
Student: 8,898
Address: Shaheed Tajuddin Ahmed Avenue, Tejgaon Industrial Area, Dhaka, 1208, Bangladesh
Languag: Bangla
Education System: Coeducation
Students Residential Hostel In Dhaka Polytechnic Institute
In Dhaka polytechnic institute the Students have low-cost accommodation in the institute Hostel. Below the Hostel name has been given.
East Latif Hostel
West Latif Hostel
Zahir Raihan Hostel
Maniruzzaman Hostel
Kazi Nazrul Islam Hostel
Aziz Hostel
Library And Medical Center
Dhaka polytechnic institute has a large Library in the institute building. The library has a collection of 20,000 books and 10,000+ bound periodicals. The main reading room of the central library can accommodate 100 students at a time to provide reading facilities of rare and out of print books, ready reference, and prescribed textbooks.
The institute has a Medical Center with a full-time Medical Officer(Diploma In Pharmacy) and other supporting staff. The Center provides free treatment.
Canteen
There is a Canteen in Dhaka polytechnic institute with the fill of many delicious and salubrious foods. The healthy environment of the canteen is the best thing.
Playground
DPI has a stadium located close to the Tejgaon Nabisco junction. The stadium is a venue for different kinds of events and matches including physical education classes for DPI students.
History of Dhaka Polytechnic Institute
Dhaka Polytechnic Institute was first formed in 1955 by Oklahoma State University-Stillwater with funding from the Ford Foundation and the name was then East Pakistan Polytechnic Institute, Dacca. By the mid-1960s it had become Dacca Polytechnic Institute.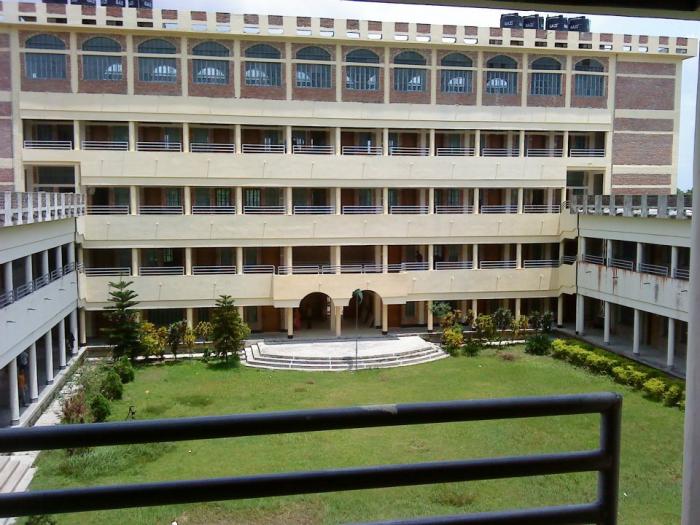 Dhaka Polytechnic Institute's Educational Information
Including the Departments's name, Admission Qualification, Admission Quota, Course Information, Class Schedule, Scholarship, and more information has given in below have a look.
Departments with Seat Number
Currently, Dhaka Polytechnic Institute has the following departments:
| | |
| --- | --- |
| Technology Name | Seat Number |
| Architecture Technology | 50 |
| Civil | 200 |
| Chemical | 50 |
| Food | 50 |
| Computer | 50 |
| Electrical | 100 |
| Electronics | 50 |
| Environmental | 50 |
| Mechanical | 100 |
| Automobile | 50 |
| Refrigeration and Air conditioning | 50 |
Admission Qualification
If you want to admit Dhaka polytechnic institute, first of all, you have to pass the SSC exam with a minimum CGPA of 3.50 and an individual CGPA of 3.00 in General Math or Higher Math. When you have these qualifications you can apply to the official website of the Bangladesh Technical Education Board.
Admission Quota
All the government polytechnic in Bangladesh has been preserved some quotas.  The female quota is 20%, SSC (vocational) 15%, minor ethnic group quota 2%, freedom fighter 5%, special needs student quota 5%, and 2% for children of officials or employees who are working in the Ministry of Expatriates' Welfare and Overseas Employment. According to diploma engineering admission circular 2019, 53% of students will be admitted to polytechnic diploma engineering by merit and 47% of students will be admitted to the government quota.
Course Information
In early 1955, Ford Foundation established Dhaka Polytechnic Institute, with a duration of 3 years long diploma courses, based on the syllabus of Oklahoma State University, Still Water, USA. Since 2000–01 it has offered a four-year-long Diploma in Engineering course which is controlled by Bangladesh Technical Education Board (BTEB).
Class Schedule
The polytechnic institute has two shifts on a day First shift and second Shift. The class of First shift begins at 7:00 AM and ends between 12:00-1:00 PM. Again the second shift class begins at 1:30 PM and ends at 6:00 PM.
Scholarship
The government Polytechnic College provides an internal merit Scholarship. When the students have passed on a semester without any reffard from them some of are got TK 1650 to regard the internal Scholarship.
Contact Details and Official Website
Address: Sarasota, Tejgoan Dhaka, Bangladesh
Phone: +880 2-9116724
Website: dpi.gov.bd
Dhaka Polytechnic is one of the largest institutes among all Polytechnics in Bangladesh. The study system and facilities of this Institute are impressive.